That's right I said make your own f-ing wallpaper! Do you know what you get when you google "diy wallpaper"? Not a whole lot that's actually related to making your own wallpaper, let me tell you. For top secret reasons I had to do a top secret project- making wallpaper (obviously not secret anymore). This was one of the most fun and most challenging projects I have ever attempted. The results are adorable and badass at the same time. See for yourself.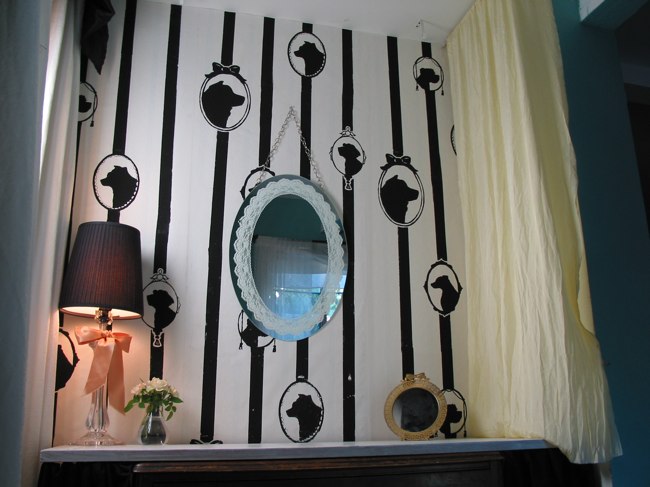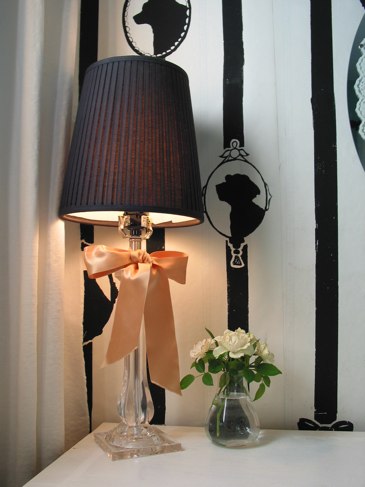 For my design I chose to represent all five of my ridiculously wonderful doggies in silhouette. Here's a shout-out to Osa, Yellow, Monty, Jojo, and Petina- I love you all! Anyhow, I combined my love of formality, cuteness, quirkiness, and punk to make this design. All of the frames are specific to one dog. So how did I accomplish this incredible feat? I will show you.
STEP 1.
The first step was to locate and purchase blank wallpaper. HA! Good luck finding any in a physical place! For the next round of wallpaper I think we are going to have to order from heaven. BUT good news! An even more punk rock, diy, recycle-friendly, eco-friendly, method is to find wallpaper with no glue on the back-side and use that blank space as your canvas. We got ours at Big Lots on clearance for $2 a roll! Be prepared with some spray fixative because the back of the wallpaper picks up dust and finger smudges like nobody's business! Also, the image on the wallpaper did tend to show through to the backside only the slightest bit, so keep that in mind when you design.
STEP 2.
Design. I had my design ready from the moment I decided to do this project, but that didn't make it any easier to get onto the screens. I drew a tiny sketch of my idea for the panel, and then rolled out the wallpaper to see how it would look blown up.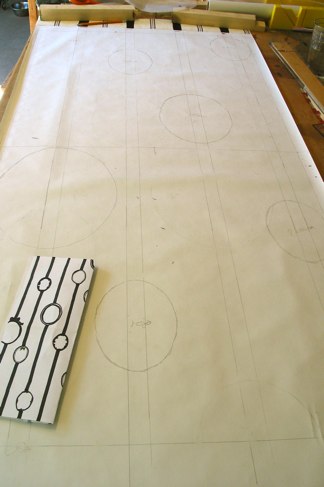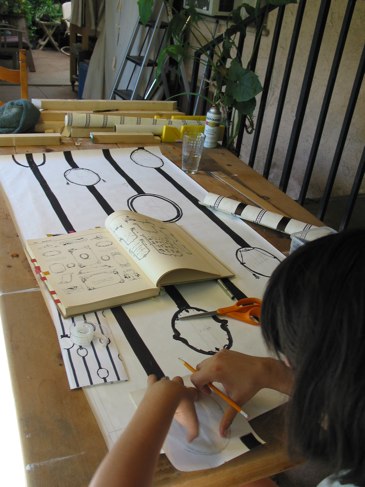 STEP 3.
Build your screen(s) according to wallpaper size and design. Had this design involved polka dots or flowers I could have used just one screen and used an interlocking, seamless pattern. My design was a long panel with stripes, so I ended up using two 25 inch screens. My original idea was to build one long screen and print the whole design in one go, but my loving screen-printer hubby explained that the squeegee goes from side to side and not from top to bottom, so that would mean getting a six-foot long squeegee and using three people to pull it. Kind of a funny idea now that I think of it.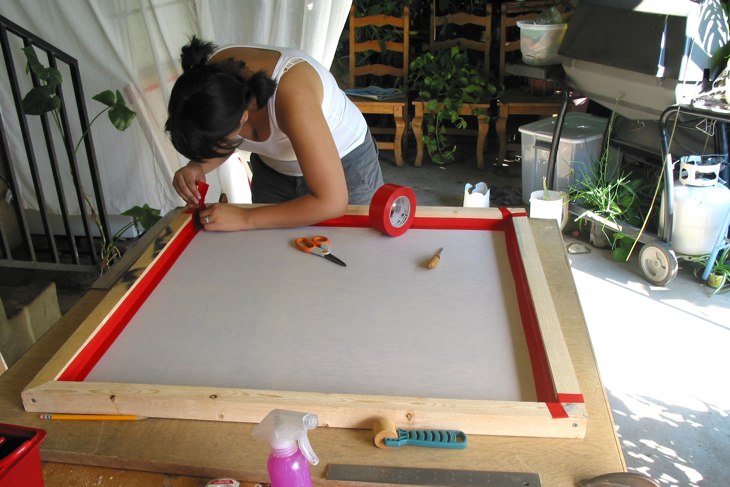 Make sure you use the proper tape. That's all I'm gonna say about that. Duct tape was the cheapest and easiest to come across- we had a full roll in the tool cupboard. According to screen printers out there you can buy a specific tape for this, which I would recommend because you DO NOT want to get to the printing stage and discover that your tape is lifting off the screen and there's ink all over your table and now the wallpaper too.
STEP 4.
Get your design onto your screen. You can, if you choose, take your screen to some magical place where they burn your image into your screen, for a fee, or you can get buck wild like I did and hand draw the design onto your screen with drawing fluid. Personally I like to do things by hand. I like the look of hand-drawn things. I also did not want to spend money for something that I'd enjoy doing on my own (especially after getting that squeegee cut to size- they charge by the inch! $1.80/inch times 26 inches- you do the math). We printed out a guide for the design, taped off the stripes, and traced the doggies onto the screen, all in pencil. Next we used drawing fluid to fill in the positive parts of the image- the parts that we wanted to print. After that dried we did one nice swoop of block-out fluid with the squeegee and let it dry before washing out the drawing fluid. Depending on the complexity of your design, this part is definitely time consuming. If you like painting it should prove to be relaxing and fun. If not, I would definitely recommend taking your design to get burned into the screen because it could get tedious and frustrating. During this portion of the project I discovered that sewing has given me ZOOM VISION! I have a super hero power!!!!!!!!! I learned that I can see down to the intersections of the screening and paint in great detail! I feel kind of cool about that.
Anyhow . . .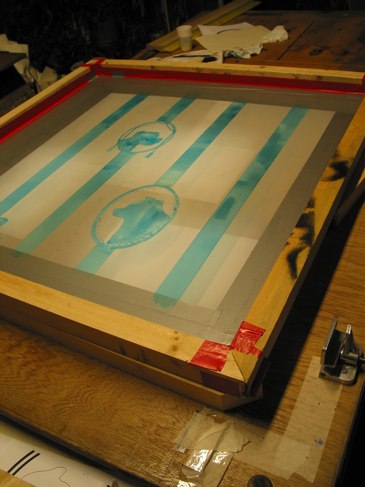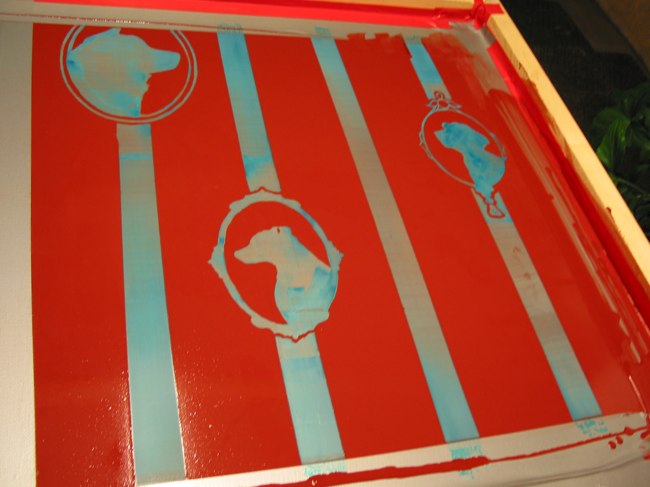 * Note: I HIGHLY recommend using Speedball drawing fluid and screen filler for these steps. The first time around we used a commercial brand, which turned out to be tricky to use, and water soluble (it rinsed out stuff it wasn't supposed to rinse out).
STEP 5.
Once the whole thing is dry you can wash out the screen and only the drawing fluid (positive) sections will rinse out. In this case, all the blue. As you can see there are a couple of red spots where they don't belong. When rinsing those spots in the shower we used a toothbrush to scrub them out. It wasn't too difficult. Don't use too much water pressure when rinsing because you don't want to accidentally rinse the negative spaces- although the Speedball screen filler was pretty hard core.
STEP 6.
Line up your design and your paper. I marked out, very specifically where the screen would land on the paper, where the design ended, and where the squeegee would go. This might not be as necessary depending on your design. Definitely create paper guides and a screen stop though. Oh, and this part definitely requires space for the printed wallpaper to rest and dry. Lucky for me, I have a huge family which requires multiple folding and dining tables to accommodate us all, so we had plenty of surfaces to set up for wallpaper drying.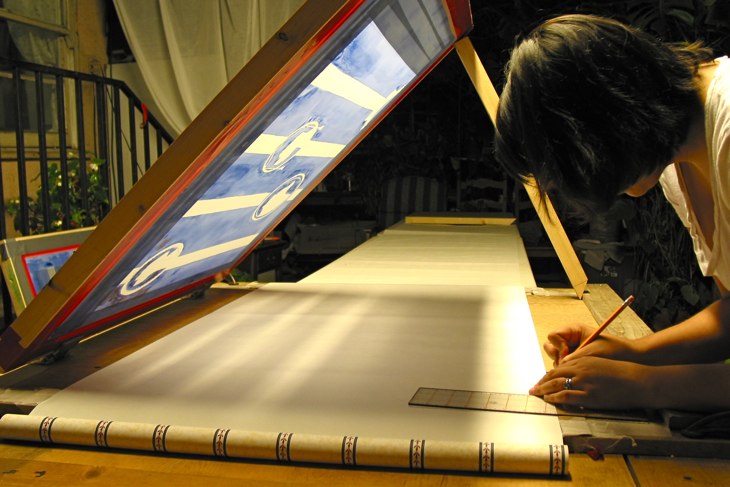 STEP 7.
Print. Finally! I have no photos of this because I was too busy printing. Plus I had ink all over my hands. And arms. And legs and blouse and toes. This part was messier than I had anticipated. What you basically want to do, if you've never screen printed, is spoon out some ink on the far end of the image (which ever side you are pulling the squeegee from), make sure the ink is consistent, get your squeegee in position all the way at the edge of the screen, and pull towards your body at a 45 degree angle, using consistent pressure. I printed only the first panel, skipping the sections where the second panel was going to go, and let it dry. I put a fan on to help the ink dry faster, but I'm not sure if that actually helped. Once that was all dry I was able to roll the wallpaper back up and start printing the second panel, from the beginning of the roll, in the empty sections. This is why, in my case, it was so important to line the paper and design spaces up perfectly (step 6). Lining up stripes is no easy task, let me tell you. Once it's all dry use your spray fixative to seal the paper off from smudges.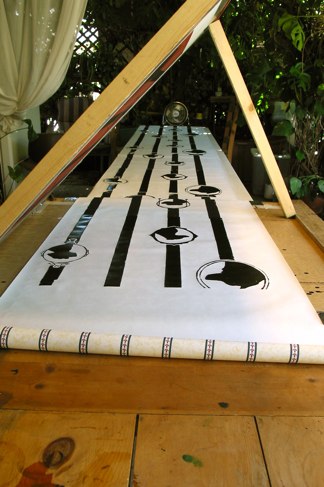 STEP 8.
Clean up! I added that exclamation mark to try and cheer up a task that is actually not terribly cheerful at all. It was messy as all get out- our shower is still kinda black- and a little exhausting. But that's the price you pay for creating something beautiful and unique! Even with the messy cleanup it was a wonderful experience that I can't wait to repeat!
STEP 9.
Hang your wallpaper – unless it's a gift, in which case you'd just give it to someone else to hang *=*. I just used a paint roller and a jug of wallpaper glue. The original front side of our wallpaper was vinyl, so we made sure to buy glue that would work on vinyl. Voila! gorgeous, personalized wallpaper!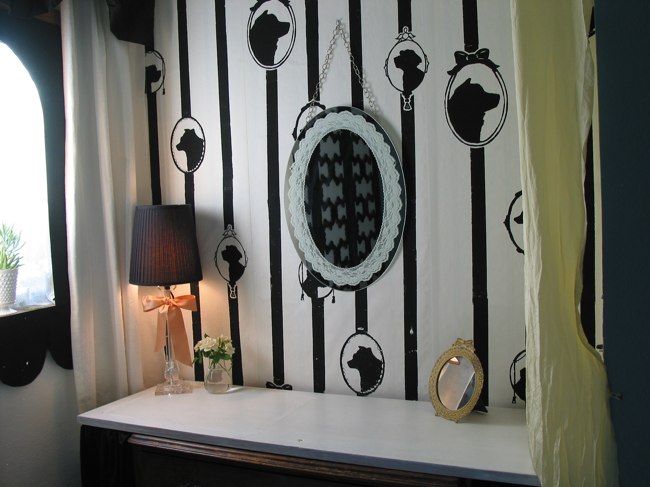 Here are the before, and during photos by the way.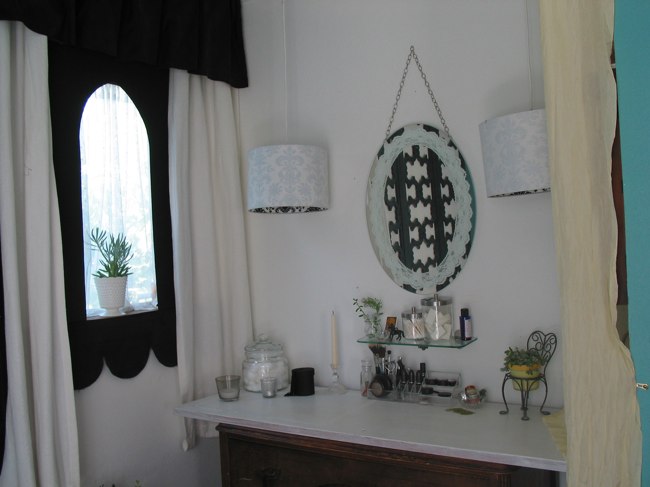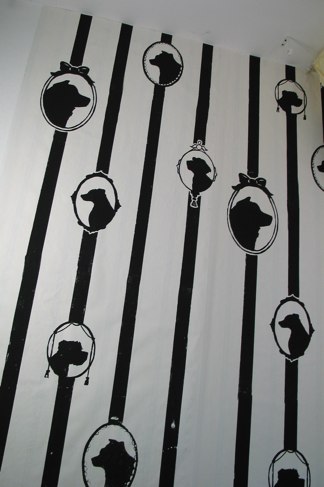 Oh, and here is one of the originals!
Jojo's silhouette is right there above his head – a striking likeness, don't you think?
Happy wallpapering!