Just as with anything there are multiple ways to attach bias tape.  The method that I use most frequently is the Lazy- er, I mean EASY Taco Method.  The Taco Method works best on light to mid-weight fabrics, or when joining two light to mid-weight fabrics.  If you're attaching bias tape to a quilt or something with more than two layers, I'd suggest using the double stitch method, which I'll cover in a different post.
1.) BEFORE you apply your bias tape it's a very good idea to make sure that the edges of all layers of fabric are aligned.  This may mean re-tracing your pattern and snipping off excess fabric, or just trimming loose threads.  This is important because you don't want your stitches to miss any layers.
2.) Filling the taco-Insert your fabric into the center crease of the bias tape, much like you would the delicious fixings of a taco!
You'll want your fabric to fit that bias tape crease as closely as possible for several reasons.  First, it will help avoid ending up with wavy or crooked edges.  And second, you don't want a loose channel at the edge of your project- it can make the bias tape look warped, the stitches may not catch all layers, or may come very close to the edge of the fabric, eventually ripping loose completely.  With washing those problems will increase.
Correct taco: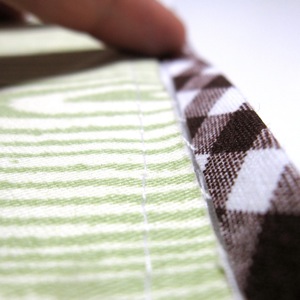 Incorrect Taco: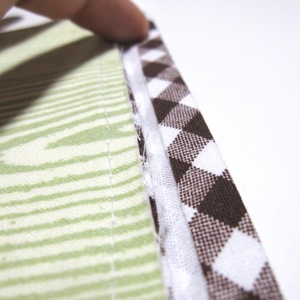 3.) Pinning- Now that you've trimmed your fabric and correctly inserted it into the bias tape, you're ready to pin your layers together.  You'll want to pin once at the beginning, and then every 1.5″ or so, and then once again at the end.  Like so: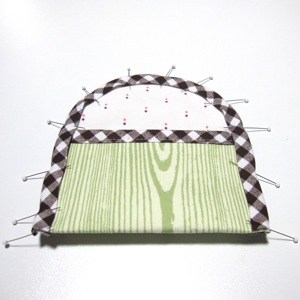 4.) Stitching- Usually when I'm not working with bias tape I just sew right over the pins, but when applying bias tape it's really important to remove the pins just before the needle gets to them.  If you remove them too far from the needle, there's a chance that the fabric will warp and buckle.  If you stitch over the pins, there's a chance that the bias tape will pull a bit in that spot and you'll end up with funky little points of fabric wherever your pins are!  A good rule of thumb is to remove the pin when it reaches the tip of the presser foot, or just before.
Those are the basics of bias tape, my friends!  For more advice check out my other tutorials!