It seems like Christmas is the time of year when everyone wants to get crafty, doesn't it?  I think it has something to do with baking, decorating the Christmas tree, wrapping presents.  All of those things kind of force us to get in touch with our creative side.  Of course making gifts is the ultimate in craftiness.  Even if you're not hand stitching a quilt for every member of your family I thought I'd post a couple of fun ideas for easy DIY gifties.   Today's DIY giftie is the sweet baby tee or onesie.  SO easy!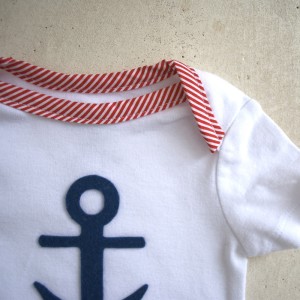 Materials:
* Baby onesie or Tee
* 1 yard bias tape
*  4″ x 4″ Felt swatch
* 4″ x 4″ Heat N Bond
Step 1.  Measure the front portion of onesie collar.  Add 1/2" and cut bias tape to size.
Step 2.  Fold the first  1/4" of bias tape under (so that there are no raw edges showing) and wrap BT over collar, like a taco.  Pin every 1.5 inches. At the end, fold remaining 1/4" of BT under and pin in place.
Step 3.  Stitch, 1/8" from the edge.  Press with an iron.  Repeat for the back portion of the collar.
Step 4.  Iron Heat N Bond to felt swatch.  Draw or trace an image onto the paper side of the swatch and cut out.  Peel paper off and apply to the front of the tee.  Stitch in place with contrasting thread, or use small, hand stitches for a hidden seam look.  Now sit back and enjoy your handiwork!