I just bought a lovely mound of unbleached muslin, so I've been playing with it like crazy lately.  I whipped up this cute little drawstring pouch in about ten minutes!  I just needed a long rectangle of muslin, some cotton twine, and about half a yard of bias tape (I used my Mustard Faux Patchwork bias tape).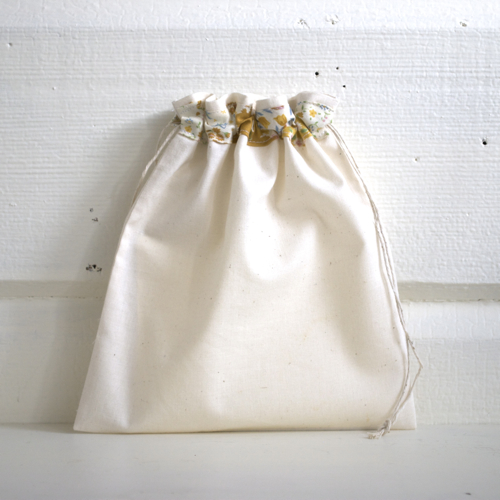 I love drawstring bags, but I really dislike making the drawstring pockets because somehow I can never get them right.  They're fussy.  This project is great because it involved zero fussing and the drawstring pocket adds a fancy flair!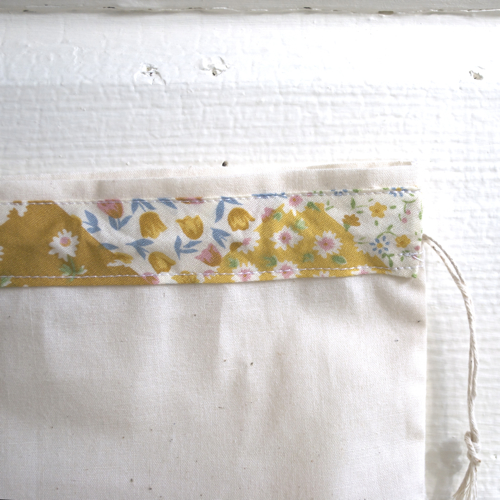 1. Fold down one end of the rectangle 1/4″.  Press with an iron, stitch, and repeat for the other end.
2. Cut 2 strips of bias tape to the width of your rectangle.  Iron open to make single fold.  Pin about 1/2″ from the edge of the rectangle, but fold raw edges in about 1/2″.  Stitch on both sides to form a drawstring pocket.  Repeat on the other side.
3.  Fold rectangle right sides together and stitch about 1/4″ from the edges.  Insert drawstring into pockets and voila!