If, like me, you've taken down your Christmas decorations and find the house a little boring without all of the sparkle and jingle jangle, you're probably wanting some cheerful Valentines decorations asap!  No problem, crafties, I've got you covered with this adorable heart bunting!  Chubby red and white hearts get trimmed in pretty floral bias tape and strung up on a light cotton twine.  Too cute!  This is a great way to use up any extra red felt you might have left over from Christmas craft projects.   Felt is great not only because it's easy to work with, but it sets off the pretty pink floral bias tapes beautifully!  I think hearts and floral bias tapes are a match made in heaven.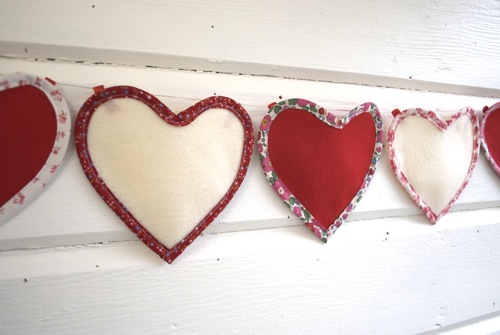 Here's how to make your own:
Materials:
– Felt or linen in red, cream, white, or any combination of those. (8″ square for each heart)
– 25″ bias tape per heart
– Heart template Download Here
-Satin or grosgrain ribbon- two 2″ strips per heart
If you're not feeling up to tracking down materials, purchase my Sweet Valentine Bunting Kit here!