Spring is on its way, and boy am I looking forward to it!  Six months ago Eric and I moved into a house with a sadly neglected garden, so I'm basically starting from scratch.  I've been enthusiastically collecting and buying seeds over the last month and realized that they were collecting in utter chaos.  So I decided to make and share a few tools to help my fellow gardeners get organized for the growing season ahead! PDFs can be downloaded at the bottom of the post.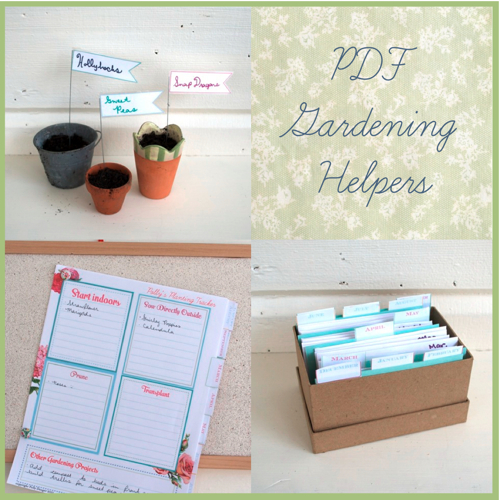 1. DIY seed organizer
My first step in seed organization was to condense my overflowing box of seeds into something uniform and easy to navigate.  The tidy box of seeds you see before you was once a shoebox full of   supermarket seed packages, Ziploc baggies full of seeds from neighbors, specialty seed packets from Etsy, you name it- it was a mess.   Now my seeds are organized in coin envelopes, by planting month.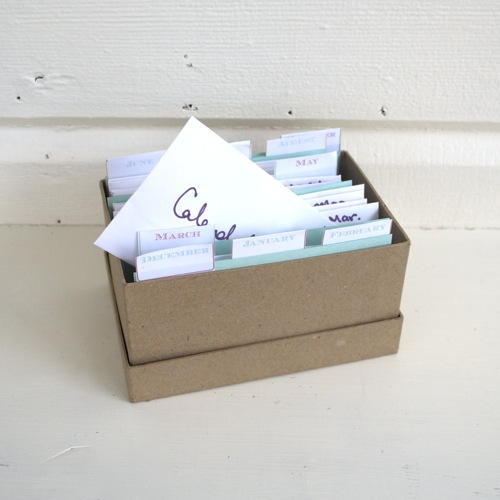 Materials:
PDF Gardening Tabs
Sticker paper (optional)
12 index cards
Box to hold seeds and index cards (recipe boxes work great)
Coin envelopes, which you can get at any office supply store.
Step 1. Download my Gardening Tabs, which are color coded by season.
Step 2. For super easy application, print onto sticker paper or full sheet label paper, then cut out.
Step 3. Place tabs onto individual index cards, spacing them out so that each season is easily recognizable (as shown in the photo).
Step 4. Place the contents of each seed packet  into your coin envelope (or just fold the packet up and put into the envelope) and write the name on the front.  I also made a note of the month to plant in the upper, right hand corner.  You can also write planting instructions on the back.
Step 5. Now you can just slip your seeds into the organizer according to planting times!  So handy.
2. Printable Planting Guide
Now that you've got your seeds organized you might realize, like I did, that there are some seeds that you can already start sowing!  So to help keep track of what gets planted inside, what gets planted outside, what to prune, what to transplant, etc.  I made a planting tracker, which is also available for my lovely readers.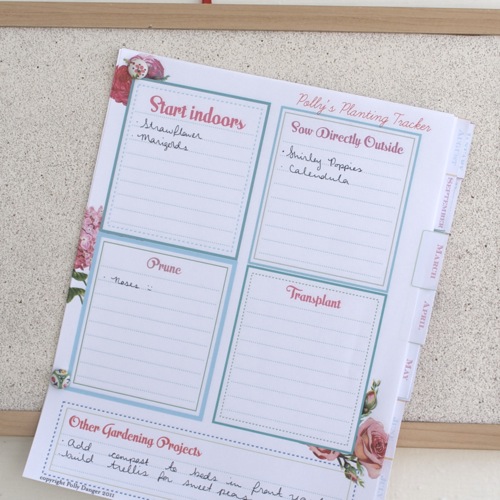 Step 1. Download the Planting Guide and print out 12 sheets, one for each month.  Fill out the fields according to your seed organizer, the directions for each seed, and any other special notes you have for your garden.
Step 2. Apply the second set of tabs (from the Garden Tabs PDF) to the side.  Keep your tracker in a binder, or pin to a bulletin board near your planting area.  I plan on keeping mine in the kitchen, by the back door so that I can see it whenever I go outside!
3. DIY Flag Plant Markers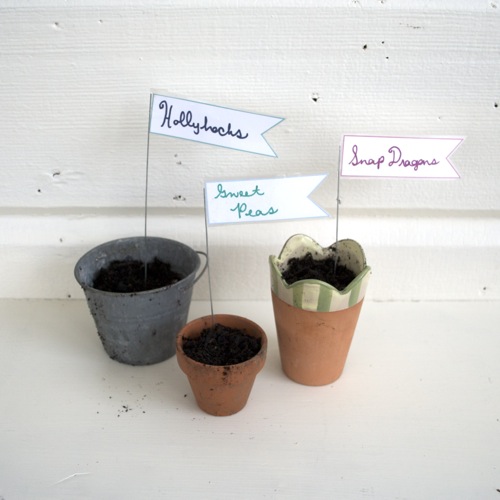 And finally, I managed to pot up a few of my early sowing seeds, but my old metal markers were just bleh.  So I made some cute waterproof flags in a jiffy!  Here's how to make your own:
Materials:
White paper
Permanent markers
Contact paper
Clear tape (shipping tape works great)
Bamboo skewers or floral wire
Step 1. Download and print out the PDF Flag Plant Markers
Step 2.  Fill out the names of your plants with permanent marker.  Cut out the flags, just outside of the colored lines.
Step 3. Cover the flags with contact paper, front and back.  I did all of mine at once by laying them face down on a sheet of contact paper, about 1/2″ apart, and then adding another sheet to the back.  Make sure to get out air bubbles.
Step 4. Cut out your flags, about 1/8″ from the edge of the paper.  Use your nail or a bone folder to get the air out of the edges. This will keep excess moisture out of your markers, so be thorough!
Step 5. Attach the flags to your skewers or wire with the tape.  Again, use your nail to press the tape close to the top and sides of the skewer .  All done!  Now you can mark your seedlings in style!
I really hope these helpers come in handy!  Enjoy.