As a sewer and maker of beautiful bias tape I have probably cut, sewn, and ironed over ten thousand yards of bias tape in my professional career, and whenever I sell in person the question that comes up time and again is- What is bias tape?  Even my sewer pals are a  bit intimidated and confused by bias tape, what the heck it is, how you make it, what it's really called, and what it does.  And it's no wonder because there are so many different terms and ways to make binding, and so very many unfortunate misdirections along the way!  So I'd like to show you what's what and what does what!
What is bias tape? What's the difference between bias and straight binding?
Binding is a folded fabric trim which is sewn over the raw edge of fabric.  Bias tape is a kind of binding made from strips of fabric that are cut on the bias (diagonal). There are many names for bias tape, and bummer-drag, they are kinda confusing.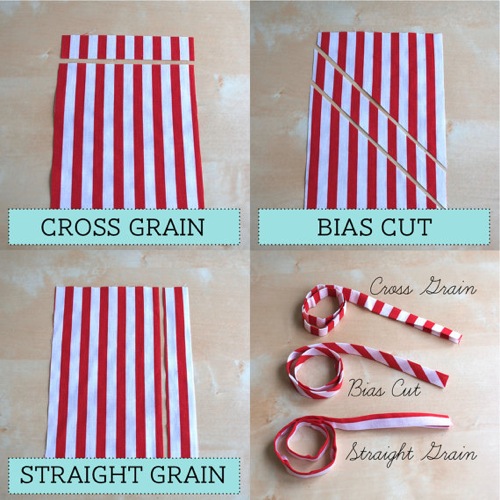 What I refer to as bias tape is also called bias binding by some.  Cross grain refers to  binding which has been made from fabric cut horizontally, or widthwise.  Straight grain binding is made from fabric cut vertically, or lengthwise.  Because of potential for confusion, I'm just going to stick with Vertical, Horizontal, and Bias for the purposes of this post. Whichever name you use, each binding has its own qualities which you'll learn to recognize as you use them.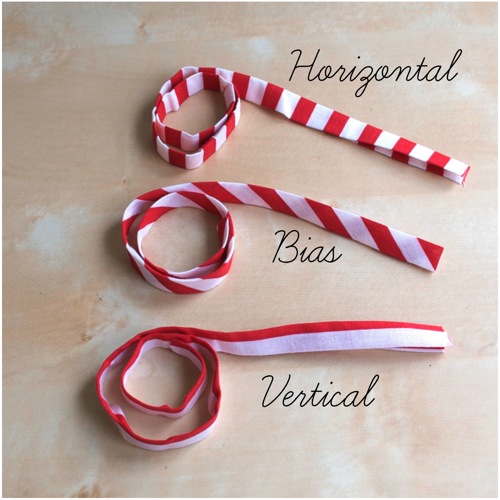 As you can see with the striped fabric, the way you cut the fabric makes a big difference in the final product. The difference is not as obvious when working with solid or all-over pattern fabrics, but with the stripes you can really see how different the cuts are and you get a good idea of how the grain of the fabric affects the binding when sewn.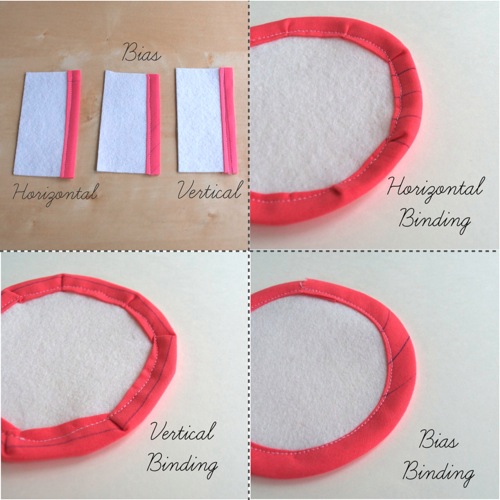 The bindings are almost exactly alike when sewn onto a straight edge, but very different when sewn onto curves (The blue lines show you the vertical grain of the fabric).  The bias tape hugs the curves beautifully, while the horizontal  binding has less give, and the vertical binding has the least give.
Tips for making or buying bias tape
If you're making bindings for yourself, vertical cut, and horizontal cut bindings are the simplest to make, and work great for projects that only require straight edges.  They make nice, stiff edges for quilts, but don't do so well on curves.  Bias tape is the most time consuming binding to make and it requires the most fabric of the three, but it's my very favorite to work with.  Bias tape covers straight edges perfectly, hugs curves beautifully, and is actually the strongest of the three, because it provides the most thread coverage at the edge.   The triple-action duty makes bias tape my favorite of all bindings, and is the reason why it's the only kind I carry in my shop!
When shopping for bindings pay attention to the direction of the threads in the fabric.  It might sound crazy, but if you look closely you can see the threads running diagonally on true bias tape, while the thread on straight bindings runs horizontally and vertically.  Can you see the diagonal threads in the bias tape below?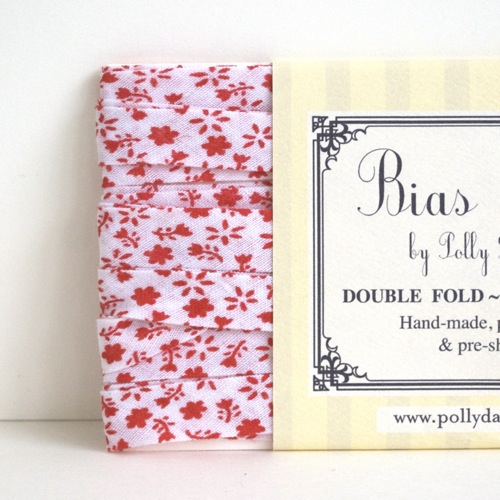 To find beautiful pre-made bias tape visit my Etsy Notions Shop or my Flagship Store.  You can also find Polly Danger bias tape in select craft and fabric shops.