It's been stewing for a while, but I think it was my coffee buzz this morning that set me into action.  I'm officially on a mission to get rid of all of the paper towels and plastic sandwich bags in my kitchen and replace them with reusable stuff that is also much, much more aesthetically pleasing.  My first project had to be a few sandwich and snack bags for Eric.  There are definitely plenty to choose from on Etsy if you don't want to make them yourself, but I wanted something masculine and cool looking, and it seems like the Etsy batch tends towards pre-school style.  So I whipped this puppy up, and guess what- it was SUPER EASY!  Follow along with me as I record my mission to replace my wasties with lovelies!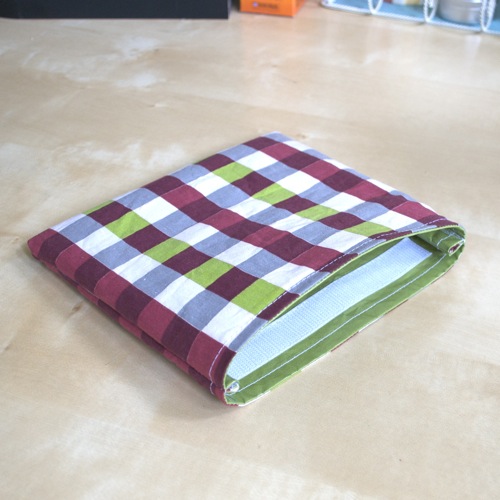 I'm sorry that I didn't take pictures of the step-by-step, but I don't think you actually need photos for this one.  Here's how I did it:
Materials (for 1 sandwich sized bag):
Step 1. Lay the oil cloth right side up with the long side parallel to your table edge.  Measure in 1″ from each edge and make a few small marks with a permanent marker.  This is where you'll attach the velcro.
Step 2. Attach the velcro.  Line up the velcro so the top just covers any marks you've made, and make sure it's centered.  There should be about 1″ of fabric still showing. It can be a bit tricky to keep the velcro in place on oilcloth, so I used a few strips of washi tape and just stitched through (painter's tape would also work well).  Stitch 1/8″ or less all the way around, making sure to back stitch.  Carefully remove any tape you've used.
Step 3. Now lay the outer fabric on top of the oilcloth so that the right sides are together.  Stitch along the short edges (parallel to the velcro).  Turn inside out and finger press the seams tidy.
Step 4. Top stitch 1/4″ from the seam you've just made.  Now you can see why it's important to give the velcro plenty of clearance.  This also gives your fingers room to open and close the bag easily.
Step 5.  Pin the fabric layers on the 2 long edges and baste closed.  Trim any wonky edges with a ruler and rotary cutter.  Fold your bag in half so that the velcro closes (right sides out), pin sides, and stitch 1/4″ from the edge.  Use a ruler and rotary cutter to trim the edges to 1/8″ from the seam you've just stitched.
Step 6. Turn your bag inside out and press the corners out as best you can.  Finger press the seams tidy and stitch 1/4″ from the edge, back stitching at both ends.  Repeat for the other side.  Trim any looses threads and turn right side out.  Voila!  Make some sandwiches and have a picnic!