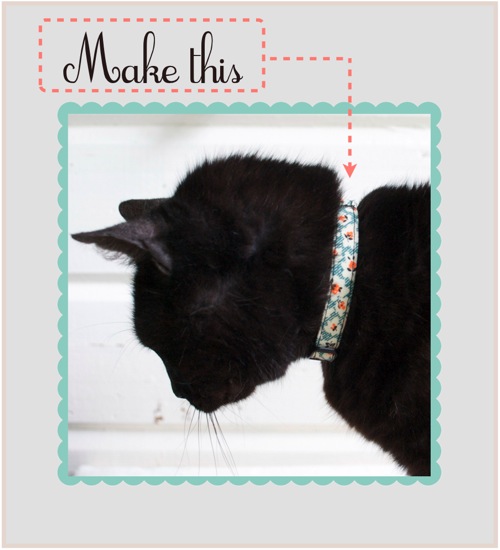 I don't know about you, but I feel like my kitty deserves better than a generic collar.  I decided to cute it up with some adorable scrap bias tape and boy were the results worth it!  The whole project was a cinch!  It requires very few materials and takes very little time or skill.  Tons of cute, super easy- yes, please!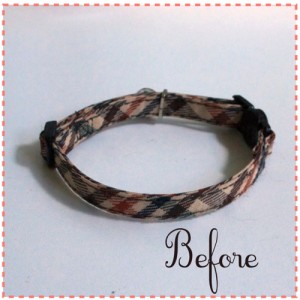 Materials:
Cat collar that you don't mind destroying.  Or purchase collar parts HERE.
15" adorable half inch double fold bias tape.
2 strips interfacing 1/2" x 14" each.  The thicker the better (I like Pellon Craft Fuse).
(See resources at the bottom of the post).
STEP 1.  Take a photo of your existing collar to use as reference.  You can also draw a diagram, but make sure to include lots of detail.  Once you're satisfied that your photo will help you, snip the collar apart and remove the hardware.
STEP 2.  Open up the bias tape and lay a strip of interfacing inside the inner fold, glue side down.  Place the strip at the center of the bias tape so that 1/2″ on each edge of bias tape has no interfacing.  You may need to trim a sliver off of the edge, depending on how well it fits into the 1/2" bias tape.  Repeat for the other fold.
STEP 3.  Close up your bias tape and iron the interfacing in place.  Depending on your brand of interfacing this might require dry heat, or steam.  Check the instructions for your interfacing.
STEP 4.  Starting with the closed edge of the bias tape, stitch 1/8" or less all the way around the bias tape, creating a closed strip.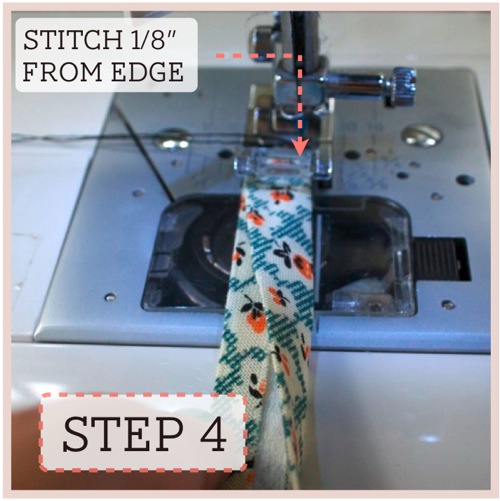 STEP 5.  Press with an iron.
STEP 6. Use your photo or diagram to reassemble the collar.  Stitch ends in place using triple reinforced stitches.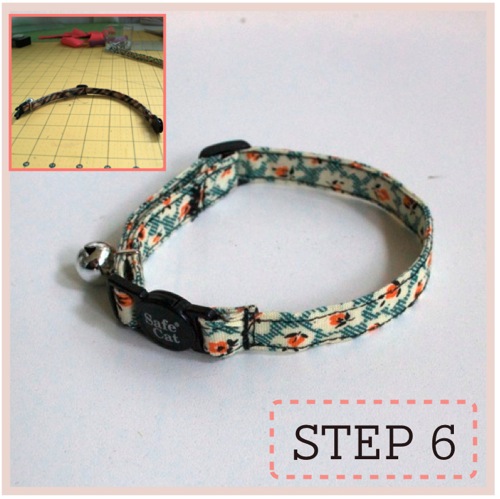 STEP 7.  Test your collar out on your kitty and adjust as needed until you get the right size.  Voila!  You just made an adorable kitty collar!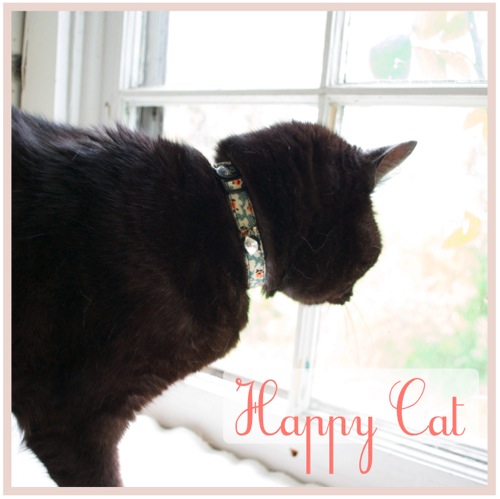 RESOURCES:
Bias Tape – Polly Danger Notions
Interfacing (Pellon Craft Fuse) – Twill Tape
Collar hardware – Sewing Supplies on Etsy