I love living in Oregon. Like most people who move here from somewhere else, there are so many things I love about it that I'm willing to put up with 6 or more months of gloom and drizzle. When Gaspar was a widdle bitty baby (you know, like 3 months ago) it was nice to cuddle all day in bed or on the couch and kind of ignore the cold outside. And then overnight (actually over one week) he became a 5 month old toddler. He went from crawling to sitting up to standing almost instantly. And suddenly cuddling on the couch was a thing of the past. Suddenly I had this very mobile little person who wanted to go everywhere and climb on everything and do everything and it hasn't stopped since. So cold weather got way less fun.
There are apparently indoor play spaces for kids here, but after tons of research I still haven't felt comfortable taking him to any of them. They're for toddlers, and Gaspar may be very active, but he's not ready to get thrown in with big kids. So I started working on a play space of my own. A crawl tunnel, throw pouf, and a playpen makeover later, and I have a collapsable baby jungle gym that works amazingly well indoors as well as out. The other day I set up the whole shebang outside under a pop up canopy so that Gaspar could play while I did some gardening.
Pack n play turned toddler lounge
I saw, and pinned, this interesting play pen mod, but I didn't see a reason to cut up a perfectly good playpen. Until. Our precious, precious dog, Jojo, peed on the pack n play. So thanks to Jojo's inability to see anything as off limits for pee we now have a really cool play nook lounge. And Gaspar really likes it! It's the perfect height for climbing into and hanging onto.
How to:
1. Acquire a pack n play that you don't mind modifying, or let your dog pee on your current pack n play.
2. Set up the pack n play and carefully cut the mesh out of one side. Get all the loose threads too.
3. Cover the mat with fun fabric and add pillows. I used a vinyl tablecloth since this is currently an outdoor set up (and also because I couldn't entirely get the dog pee out of the mat- shhh don't tell).
4. Attach the mobile, if you have it, and cover with a curtain. If you don't have the detachable mobile then improvise. Some yarn attached in an X over the playpen would work fine. Also, I attached the curtain with binder clips because G was wiggling the fabric a lot.
That's it! It's one of the easier and more satisfying scissors-related makeovers I've ever done.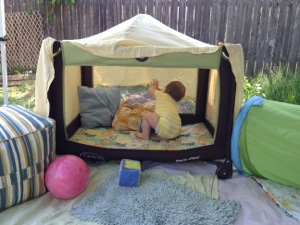 Water-resistant picnic blanket
I made this bad boy early in spring so I could get us outside and in the semi sunshine when the grass was still kinda wet all the time. Water resistant picnic blankets are kinda pricey and never really that cute, so here's a super cheap and super cute way to make your own (remember, I did this with a super active munchkin and few hours of sleep, so it's totally doable for you too!
What you need:
– large vinyl table cloth (got mine at Walmart for $3.49 or something) get the biggest one you can find.
– cute vintage sheet.
Step 1.
Put baby in a pack n play, swing, etc. Put dogs outside. Maybe roll up the rug.
Lay the table cloth right on the floor, right side up. Lay the sheet on top, right side down. So, right sides are facing each other.
Step 2.
Pin together. The layers won't match up exactly, but that's okay. Pin anyway. Trim off the extra vinyl, or sheet, whichever has extra. Flip the whole thing over and check the back.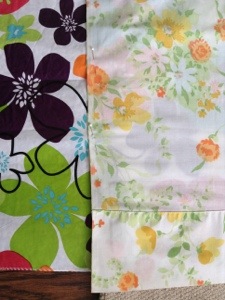 Step 3.
Stitch all the way around, leaving a 12″ opening. Trim corners close to the seam. Then turn the whole thing inside out. At this point I would normally tell you to press the edges, but since we're working with vinyl we'll skip it this time.
Step 4.
To be honest, I haven't gotten to step 4. The weather got really nice and I just didn't have time for silly things like top stitching. I just needed a picnic blanket quick! But for you, dear friends, nothing but the best. Just go ahead and stitch a top seam, trying to press the edges with your fingers as you go.