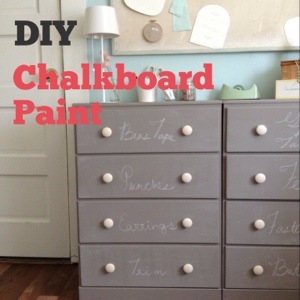 You know how Pinterest can be a vacuum of gorgeous projects that just get compiled and never accomplished? Yeah, welI I don't roll that way. I have attempted at least half of all of my Pinned recipes and projects, which you can follow HERE. Except maybe the gardening ones because I don't own a castle with attached conservatory and three hundred acres of pastoral English countryside. But I digress.
In our funky house you have to walk through the office to get to the bathroom. Ever since our floor debacle we've had two rooms whose floors were still too wonky for wood or Pergo, so all winter we've walked over a plywood subfloor, thinking, okay, we'll get to that eventually. And all winter and spring I've gotten antsier and antsier to get back to work in my office. Finally one day I said (pardon my French) "Frick eventually!" Except I didn't say "Frick". And I decided to paint the plywood subfloors. So I Pinned a bunch of cute floors. And then I realized that what I thought was a shortcut was actually a longcut. So we bought vinyl flooring that looks exactly like the Pergo we have in the other rooms and I installed it over the crooked floor in about 2 hours. It was SO easy. So. Now I have a semi decent floor. Now I have to cram 2 rooms worth of work and craft stuff into one room (the sunroom is another story, friends. I only have so much time to tell you the nonsense that goes on on this house).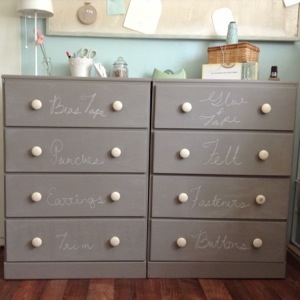 Okay, NOWWWW, I can tell you about the drawers. Sadly I have no Before pictures. Sometimes, when the conditions are right you just have to get knee deep in your project and if the camera is upstairs on the bed, well,oh well. Anyway. Our good friend and once-mailman, Glen, gave us these cute vintage drawers from his childhood bedroom- how adorable is that?! And they were wood. Glen is a wood purist. He can tell you what kind of wood anything is made of. He strips antique furniture of bad paint jobs and restores it. So, I have always wanted to paint these, but felt really compelled to leave them alone, for Glen's sake.
But now that I have dark floors in my office the wood dressers just were not going to work. Plus, the danger of keeping things in drawers in a craft room is that you forget what is where, and if there is one place that I simply cannot stand for disorganization, it is my craft room. So I made the decision to paint the drawers. With chalkboard paint. I found a recipe. Dragged my furniture outside. And painted a drawer. Aaaaaannd the project screeched to a halt as I discovered that the paint was rolling into ribbons of gunk. So I stopped and retried the next day. And now I will share my variation on chalkboard paint. Oh yes, and the finished, very cute dressers.
chalkboard paint dressers, complete with mommy-friendly instructions
materials
– 1 tablespoon non-sanded grout
– 1/2 cup paint (I used latex, but I hear this works for acrylic as well)
– Sprinkle of water
– Stirring stick
– Paintbrush or roller (do not use a foam brush! )
*Note: This was enough to paint 8 drawer fronts with 2 coats of paint and a bit left over. I painted the outsides with plain paint.
Step 1
Set up a playpen, bouncer, or swing outside, in the shade, near your work station, but don't put baby in it until Step 2!
Put your non-sanded grout into a clean yogurt tub or Tupperware you don't mind throwing away. Sprinkle a bit of water* into the grout and mix into a creamy consistency. Get rid of all the lumps. Add the paint and mix well. Cover your container and use within 24 hours.
*This is the big difference between my trial and error and the recipes I've found elsewhere. Most blogs suggest just mixing the grout into the paint. Um, no. The grout is really fine and tough to mix in well. Adding the bit of water and mixing the grout first gets rid of lumps and helps it mix in uniformly with the paint.
Step 2
Feed baby. Put baby down to nap. Do whatever it takes to get the wee one to a happy place. Then, and only then, should you move on.
Paint your surface, adding as many coats as you normally would.
Step 3
Once your surface is dry, go ahead and rub it down with chalk completely. Wipe it off with a dry rag and repeat. And that's it! You are ready to use your chalkboard paint!