Meet Moxie.  She's a renovated motorhome and she's currently parked in a friend's yard, where we're adding a few bits and bobs.  I'm completely smitten.  I feel for this vehicle a passion that I've never been able to muster for the 1500 square foot house where we currently lay our heads.
When we first decided to move onto land with friends we explored lots of housing options.  I've watched about fifty thousand tiny house tours, planned out an entire notebook's worth of shed conversions, and drooled over countless cabins.  There are 2 things that affected my ultimate decision to run out and buy a motorhome.  1.)  We want temporary housing that can be immediately set up when we find the land we're looking for.  And 2.)  I decided that I didn't want to go into debt if at all possible.
There are some truly gorgeous tiny houses out there and I did explore that option pretty thoroughly.  But being that we can barely maintain our current house,  there's just no way we were going to build our own tiny house.  And buying one means more debt.  Like to the tune of $70,000 without any of the upgrades we'd like.  And yes, our payments would be way less than what we pay on our mortgage, but to me getting into more debt so we can live in a smaller version of what we have now just felt really wrong.  I don't *need* a reclaimed barn wood ceiling or a thousand dollar toilet or a marble herringbone backsplash- not in my current house and not in my next house.  I feel like the emphasis on tiny luxury really distracts from the goal of tiny living- to live simply.  And my goal is to live more simply.
I looked at yurts.  I looked at shed conversions.  I looked at park models.  And I stumbled on RV living.  I just had no idea people were doing the amazing things that they do with the insides.  The more I looked, the more I thought, "I could live there".  I started trolling Craigslist.  I figured whatever I would find would need to be painted and would need to be redone, so I started looking for something to work on during the summer.  I went to go look at brand new RVs on a couple of lots, and I poured over gorgeous Pinterest boards dedicated to RV remodels.  When it came to new trailers I realized that while I LOVE the pop outs I don't love the disgusting chemical smell inside, the abundance of cheap materials, I don't love the overload of TVs in every room, and most of what we saw also had a TV outside (really?!)  Plus, once again, a new RV would mean debt.  Less than a tiny house for sure, but still debt.  And then one day I found sweet Moxie on Craigslist.  We were a match made in heaven.  This was one of the original pictures of the interior.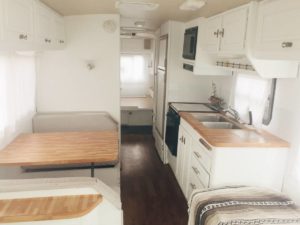 She was for sale for exactly what I wanted to pay.  And her owner was lovely and had a great story.  Moxie has been travelled in by people who followed their dreams.  I love that.  So we sprung on it and here we are.  Spending our summer bobbing between prepping our house and doing projects on the motorhome. She is less than 200 square feet of absolute loveliness.  There are tons of questions to answer, I know.  But we'll have to save those for later.  If you have a burning question leave it in the comments and I'll tell you what you want to know.
And I've got so much to show you.  So much cuteness is in the works, it's hard to restrain myself.
At this point we have the floors pulled up- we're going to put down wood look vinyl, for durability, and the toilet pulled out so that I can tile the bathroom floor and wall.  There's so much more to say about this fabulous space, but I'll have to save it for later.  I'll have bigger pictures up soon too, but for now I have to do that mom thing I do all day.  Toodeloo!